BRUNO REDDOG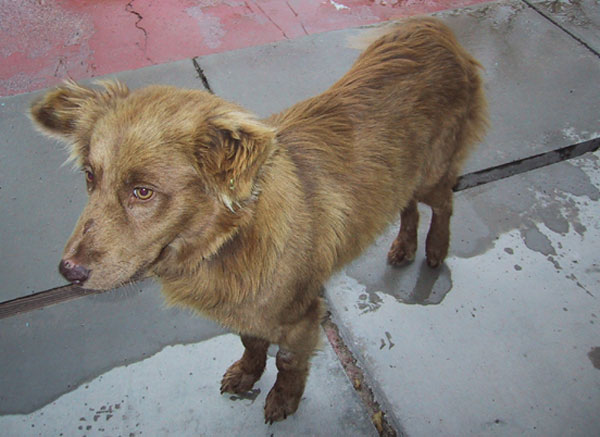 Home at last . . . regular meals, a safe place to sleep, and a huge water dish.
It sure beats being a Rez dog.
February 2005.
Bruno Reddog was a semi-feral young dog trying to make a living on handouts from people living in the housing compound at the Santa Rosa Boarding School on the Tohono O'odham Nation in southern Arizona. Some people were kind, others were cruel, so he never trusted anyone completely. The paramedics and EMTs at the ambulance station there fed him their leftovers and almost all of them were nice, so he hung around there a lot when he wasn't with his pack of dog friends.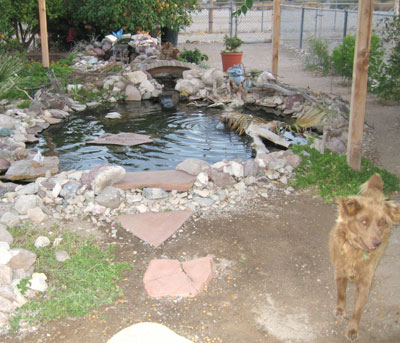 Then, one day, he got hurt. Badly hurt. One of the paramedics returned after she got off duty and took him to the vet where they discovered his pelvis was broken in two places. Surgery to fix the fractures was far too expensive so the vet told her they could confine Bruno to a cage so he couldn't move and hope the fractures mended.

They did and, after a week at the vet, Bruno was well enough to go to his new home. He still hurt, but he had a food bowl that was always full, all the water he could ever need to drink, and, best of all, no one tried to hit him.

Now Bruno feels good. He can run and play and even jump a little bit. He guards the big water bowl (the human calls it a pond) from butterflies and birds and keeps the turtles and fish in line.

In June 2005, after he'd been in his new home only a few months, he got a new friend. Her name is
Betsy
.