LINKS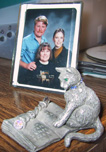 The Human
Gabrielle


Laura (RB)

Jabbit

Tomo (RB)

Call Kittens
Ralph's Wedwink
Kissa
Ralph Cats Galore!
lisaviolet's
cat house
Books!
Cats & books
go together!
Midnight Louie
and his partner
Carole Nelson Douglas
have their own site
Sneaky Pie Brown
& Rita Mae Brown
Yet another fine
cat & human
writing team
Diane Duane
Cat Wizards!
Look for "Book of Night with Moon"
MISC
Cat Whisker Digest
Best Friends
Animal Shelter
Amsterdam CatCam
You are visitor









My current cats in residence are
Ralph, Fred, Alice, Jane,
Ricky, Mary, Judith, and Claude
I need to update my pictures and pages but that's Claude N. Dammett,
the newest addition to my clowder, above.
Ralph de Ralf is a big white & grey cat.
Fredrick Tomo Spawn is a solid black cat.


Alice Madre

is a little light orange cat.


Jane Grey

is a muted tortoiseshell who appears at first glance to be grey


Ricky Ratt

,

Mary Tudor

, and

Judith Lincoln

aren't pictured.


Claude N. Dammett

is shown above.

You can click on most names to go to their web pages.

---
I'm sure there are many people who live full lives without the benefit of feline friends, but I'm not one of them. The cats manage my life.

Ralph is the grand old man who turned sixteen in April 2011. Fred, also known as the spawn of Satan, came with the house I bought in 2004 when he was about a year old. Alice is a formerly shy girl I though was feral but wasn't -- however, she was pregnant. She gave birth to six kittens, one of whom, a little grey girl named Jane, is going to stay as part of the clowder. In 2008 brother Joe's cat Mr. Lincoln had kittens and I took three of them in - Ricky, Mary, and Judith. They were joined in early 2009 by Claude, a pound kitten I kept dreaming about until I went down and adopted him - he is Fred's disciple.

In the spring and summer of 2005, the resident cats were not so delighted to have two dogs join the family. The dogs, Bruno & Betsy, live in the yard, but the cats are still not exactly thrilled. They were joined by Chuy Rex, a xolitizcuintle (aka Mexican hairless) I dogshare with my brother Hop.

Until July 2004, it was Laura and Ralph who ran my life. We moved and the new house came complete with appliances, furniture, dishes, and Fred. The move exacerbated Laura's health problems and she went to the Rainbow Bridge the morning of July 7, 2004, leaving a huge hole in my heart.

---
Laura and Ralph were not my first cats.
The first was a lady cat named Albert.
She was followed by a long furry line of friends,
most of whom have crossed the Rainbow Bridge.



One of them my was faithful old Monique Davidogue. She crossed October 4, 2000.

She was followed by

Mergenthaler

and her son Slartybartfast.

They died in 2003

.

Next was Tomo, my daughter's cat, who crossed the Raindow Bridge March 20, 2004.
And now my beloved
Laura Ann Mihstol
who left me on July 7, 2004

I miss them one and all!


Perhaps grief leaves holes in our hearts so that others may enter.
If you have an empty spot in your heart & home, please visit a shelter and adopt a pet,
or take in a stray (remember to neuter or spay).